A new type of store opened its doors in Grand Bend last spring. Metanoia Boutique on Main Street, features clothing and products made by eco-conscious designers. Owner Christina Masschelein is passionate about sustainable fashion, something she says is missing in Grand Bend.
Masschelein says her boutique fills a need in a community that often caters to tourists, by providing year-round residents with an alternative choice. The selection at Metanoia Boutique is fashionable but not overly trendy. Pieces may cost a little more but they are made to last. Most importantly, everything is ethically sourced.
At college Masschelein met a professor who was passionate about sustainability in the fashion industry. She credits the professor for opening her eyes to the concept.
"We all talk about sustainability in terms of recycling or composting or donating your clothes but I didn't know it went beyond that; there were so many other issues in the fashion industry that no one was talking about."
The fashion industry is one of the world's highest polluters and is among the largest consumers of water on the planet. Its reputation for unsafe practices and poor treatment of garment workers has been well publicized.
Companies that utilize ethical sourcing ensure that materials are obtained responsibly, taking the impact on the environment and the safety of workers into account when manufacturing clothing.
Masschelein says once she learned about sustainable fashion she couldn't feign ignorance on the subject. She resolved to educate herself and change her own purchasing habits.
"I couldn't unsee it," she says.
Masschelein says her plans for a boutique always included focusing on small brands. It was after finding sustainable products for herself proved difficult that she became determined to provide a solution for others and the idea for Metanoia Boutique was born.
Metanoia is a Greek word that means a transformative change of heart. Masschelein says she chose the name because it conveyed exactly how she felt after discovering sustainability.
She says that living a sustainable life is "a journey of changing one thing at a time," rather than an overnight process.
The name is also a conversation starter because when customers ask about its meaning it allows Masschelein the opportunity to explain how she chooses the brands she sells.
From jewellery crafted with Lake Huron glass and hemp and cotton clothing to upcycled tote bags made from donated jeans, Metanoia Boutique carries a little bit of everything. Fashions are available for men, women and children. The store sells footwear as well.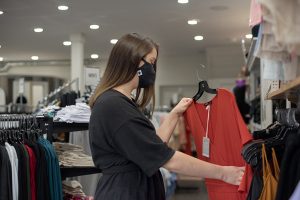 The boutique's decor is simple and uncluttered and the clothes are made from soft fabrics in soothing colours.
Masschelein says she chooses to sell clothes that feel comfortable because life is too short to spend it in uncomfortable clothes.
With more people becoming aware of the environment, the concept of sustainable fashion is one that has been quietly gaining ground. No longer a niche market, consumers are shifting away from cheaply-made, disposable "fast" fashion to sustainably made, natural-fibre pieces. Customers have told Masschelein they've been searching for the products she sells.
Masschelein is devoted to promoting home-grown talent when possible. Several items in the store are Canadian or Ontario-made. With so many small businesses feeling the strain of the pandemic Masschelein says "supporting local has become that much more important."
Opening a store in the midst of a pandemic that has forced others to close their doors isn't ideal but Masschelein remains optimistic. "It could only go up from here," she says.
Metanoia Boutique is located at 38 Main St., Grand Bend. Covid-19 safety protocols are in place and arrangements can be made for curbside pickup.