Some residents of South Huron's Grand Cove Estates are outraged that a proposed subdivision, called Oakwood Meadows, may be landing in their lush, green backyard.
As a result, they have formed a group called Citizens Concerned about Golf Course Development (CCGD). The group has grown to 40 members.
Their objective is to "effect informed and democratic opposition to this subdivision proposal."
"I'm not against the subdivision; I'm against the subdivision here," says CCGD spokesperson Janet Kurasz.
"Now they're squeezing us out"
Kathy Baiger moved to Grand Cove Estates because of its proximity to the golf course. She says she loves its natural tranquility and open space.
"Now they're squeezing us out," she says.
Grand Cove Estates is a mature, gated community with over 400 bungalows. It's situated just north of Grand Bend on the east side of highway 21.
It backs onto the Oakwood Golf Course which was a selling point for many of the homeowners.
On May 15 Tridon Group filed an application to amend South Huron's official plan. When council deems the application complete it will pave the way for the developer to apply for a zone change.
This will enable them to turn the golf course into a subdivision; changing its recreational land designation into a residential one. Over 375 new dwellings can be accommodated.
Approving an amendment to the official plan and allowing a zoning change would set a "dangerous precedent" that may encourage other developers to follow suit, Kurasz says.
Baiger says she worries about what will happen to the peaceful neighbourhood when the population doubles.
"It's just so nice to come out here and look at the stars," Baiger says. "That's going to be gone … there will be street lights … car doors slamming and honking. We came here (to Grand Cove Estates) because we're retired; we came here to get away from that."
Baker Planning Group has been retained by Tridon Group. Planner Caroline Baker will determine what is appropriate and compatible with the existing use of the land.
Baker says she appreciates that growth can be a challenge for existing residents and the subdivision draft plan and zoning bylaw amendment will address privacy and yard setback issues.
"I do understand where they're coming from; I'm not trying to minimize."
New homes will abut backyards with existing ones, she says, but the plan is for low density homes to mirror existing low density homes.
Whether low or high density, Kurasz says she just doesn't see a need for any additional housing.
She says the population growth in the area has been "static" for the past decade but a subdivision would be better suited to South Huron's urban hub, Exeter rather than near sleepy Grand Cove Estates.
In accordance with the provincial Planning Act Tridon Group's application includes a market housing study that looks at growth projections.
The study, says Baker, doesn't look at "how much housing is needed this month or this year but accommodating the appropriate housing to meet supply and demand for a 25 year time frame."
Because of its proximity to Grand Bend there is a high probability that new residents will contribute more to Lambton Shores' economy than to their own.
South Huron chief administrative officer Dan Best says one would hope that new residents would choose to go to Exeter for services but "what is good for one municipality will be good for the other." Any stimulus to the local economy is beneficial, he says.
"We can't live in silos anymore; it's really looking at the whole Southwestern Ontario area and in particular the Lake Huron area."
The project is expected to begin in 2021 and is estimated to take between five and 10 years to complete. Construction will be carried out in two phases.
Baker says splitting construction into phases will minimize the impact to the residents.
Baiger disagrees. "There is an impact; a stress impact."
She says the anticipation of spending the rest of her life looking at a wall or listening to noise is beginning to fray her nerves.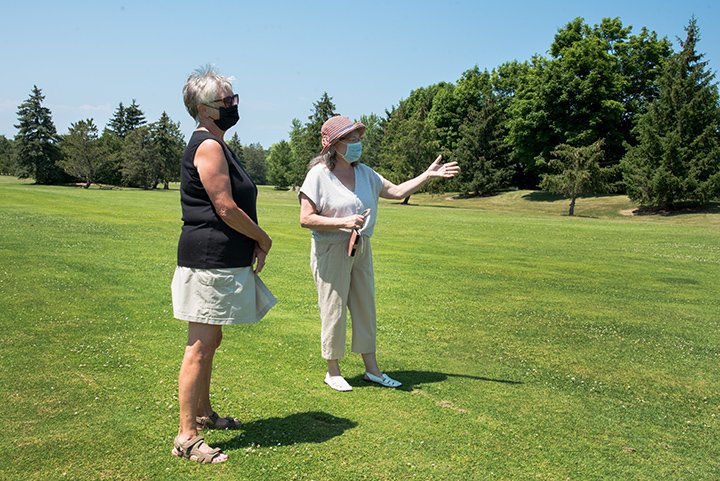 She says joining CCGD has allowed her "to take a negative and turn it around and make it a positive and try and stop this thing."
The application is just the first of many steps in the process and has yet to be considered complete.
Both Best and Baker encourage the community to participate in all future, public meetings and both have stated that all community opinions will be taken into account as plans move forward.
Best says he "can't emphasize enough that there will be the opportunity for public input."
CCGD is hosting a meeting on Aug. 11. Mayor George Finch and Councillors Marissa Vaughan and Dianne Faubert have been invited to participate.
"It is still our intention to fight this to the end," Kurasz says.