On Feb. 21 Forest native and two-time paralympian Tyler McGregor raised $30,779 for the Terry Fox Foundation by skating Blue Mountain's Woodview Mountain skating loop 23 times.
McGregor, captain of Canada's national para (sledge) hockey team, completed the 25 km skate in two hours, and surpassed his initial fundraising goal of $25,000.
McGregor said the inaugural Terry Fox Sledge Skate of Hope was his way of honouring Terry Fox's legacy while challenging himself in a sport he is passionate about.
He said he was "grateful and thankful for the incredible support that we received in being able to meet and surpass the fundraising goal."
Due to COVID-19 restrictions McGregor was the sole skater to participate and only a limited number of people were allowed on the trail.
"But it was an incredible starting point," said McGregor.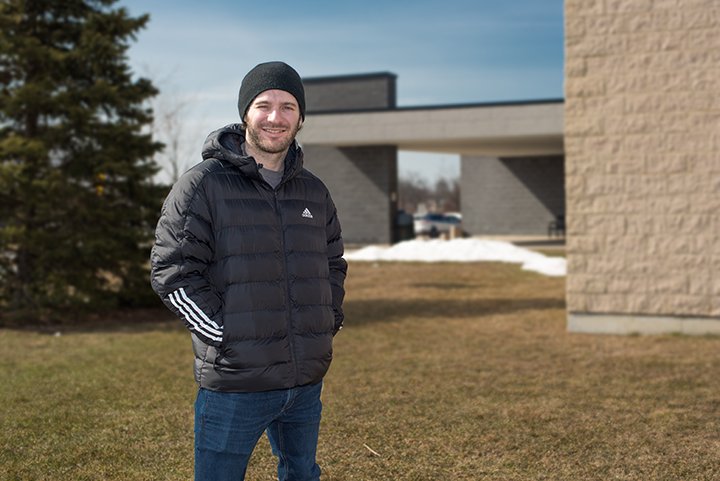 Plans for next year include the national sledge hockey team joining McGregor on the trail and being able to have family and friends cheer them on.
McGregor hopes future events receive more media and corporate support and is considering making it a weekend-long event.
McGregor is no stranger to overcoming challenges and surpassing his goals.
He began playing organized hockey in Forest at the age of three.
In 2009 after surgery to repair a broken leg he was told that spindle cell sarcoma, a soft-tissue tumour which can start in the bone, had been discovered.
He had cancer. A cancer nearly identical to the one Terry Fox was diagnosed with in 1977.
In 2010, after completing several rounds of chemotherapy, his leg was amputated to ensure all traces of the cancer had been removed.
McGregor had never known a life without hockey and the possibility that he would never play again came as a crushing blow.
"I was in a dark head space," he said about the months following the amputation.
McGregor slowly began to change his mind-set and though he was unsure exactly how hockey would fit into his future he began thinking of how he could remain involved with hockey in some capacity.
"I went through a million scenarios in my head just trying to figure out how I could stay involved in a sport that I'd fallen in love with."
McGregor was fitted with a prosthetic skating leg but quickly realized that playing hockey without a knee, at the competitive level he was used to, would be impossible.
He began to hear more and more about sledge hockey.
"What I truly wanted was to play a sport that I loved but to play it at the highest level and sledge hockey gave me the chance to do that."
In the decade that McGregor has been playing sledge hockey he has made an effort to give back by involving himself with many charitable organizations but the Terry Fox Foundation is closest to his heart and he considers Fox a personal hero.
"When I think of greatest Canadians he's the first one to come to mind, he said.
When Fox began his Marathon of Hope 40 years ago to raise funds for cancer research, the survival rate for the type of bone cancer he had was barely 20 per cent.
Today the survival rate is 80 per cent and the Terry Fox run is the world's largest one-day fundraiser for cancer research.
The statistics are not lost on McGregor. He credits Fox, and the research carried out as a result of his marathon, for saving his life.
"I wouldn't have the opportunity to be alive or at least live the quality of life that I do now without what he's done for me, and not just Canadians but people across the world, in giving them the opportunity to continue living."
McGregor said the children he met while in hospital all those years ago were always so happy and positive even while battling life-threatening diseases.
At 15 he was among the oldest and he came to think of himself as their older brother. Three of those children lost their lives before turning 16.
It was with those children, and Fox's words "It's got to keep going without me," in mind that he decided to create the Terry Fox Sledge Skate of Hope.
"It breaks my heart that young kids don't get the same opportunities to go to school, meet friends and play sports and figure out the things they love in life so I think it's important to try and do whatever I can to help be part of the change in making that possible for more kids," he said.
During his Marathon of Hope Fox ran a seemingly impossible 42 kilometres per day.
"He did that while battling cancer," McGregor said. "It's unbelievable; Mind-blowing."
McGregor hopes to match that feat by skating 42 kilometres at next year's Terry Fox Sledge Skate of Hope.