After receiving funds from a government of Canada grant, Huron Shores United Church began work on a new, Covid-safe outdoor space that promotes inclusivity and accessibility in the community.
The front yard of the church will be transformed into what the church calls a Community Living Room where both visitors and residents can expect to feel safe and included.
In a newsletter the church stated: "We wanted this space to be a reflection of our goals of equity and inclusivity, a place where all could gather in community. All are welcome."
The outdoor space will include a healing garden that Deb Gill, chair of property at the church, said she hopes will "create a spirit of relaxing."
The church has requested input from Stony and Kettle Point about the use of Indigenous vegetation for the garden as well as the advice of Hoaonaadia Tree Nursery owner James Corcoran who is co-chair of the Lakeshore Eco Network.
A plaque with the words to an Indigenous gathering prayer will be placed on a stone in the healing garden.
A six-sided iron prayer tree will be erected that will allow passersby to hang personal prayers, and a wooden peace pole will include words of peace in different languages.
Words of equity will be stained onto two walkways leading up to a central pad.
Six, Eco-friendly benches will be spread out along with water-refilling stations that have been purchased by the Rotary Club so that people can take in the garden while maintaining physical distance.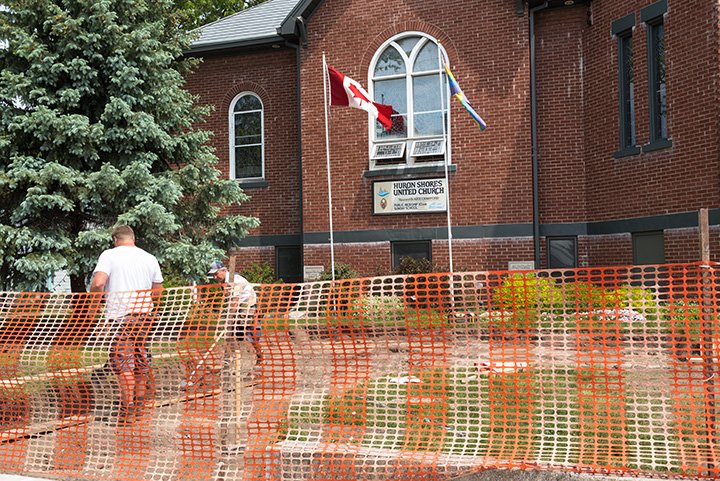 Lastly, the area will be a Wi-Fi hot-spot so that residents and visitors can check their messages or connect with people.
Gill said that when people heard about the grant they were so excited.
"It's been so long and you can't give to your community in this Covid-stress situation or get out and be social."
To work on the project the church's affirming, accessibility and Indigenous-relations groups collaborated on how the outdoor space could best serve the community.
"It was exciting to collaborate with all those people and design a living room outside that was covid-safe," Gill said.
The groups wanted to plan a space that was welcoming, peaceful and environmentally-friendly while keeping Covid-19 distancing measures in mind.
The grant is part of the Government of Canada's $31 million Healthy Communities initiative formed to help support communities create or transform public spaces during the pandemic.
The initiative was announced virtually on Feb. 9, 2021 by Catherine McKenna, Minister of Infrastructure and Communities.
"Today we're calling on all communities to come forward with your ideas. We designed this program, it's intended to focus on smaller, local projects that can get a big impact quickly to help with some of the local affects of the pandemic and really to help people survive and thrive through the pandemic," McKenna said.
Two rounds of applications were accepted with 3,000 submissions during the first round alone.
The church requested $12,468 to create their dream of an outdoor living room.
Gill said that when the committee heard that $500,000 was being allocated for all of southwestern Ontario they thought the chances of their application being accepted were "slim to none."
She said that the church was committed to the project and felt it was so important that there was talk of raising money for the project in the event that the application was denied.
Gill said the team was "over the moon" when they found out that their application had been approved.
Construction for the project has already begun.
The church is hoping that some sort of celebration or official opening can be planned but due to the ongoing pandemic restrictions no date has been set.