In their June 23 meeting, Lambton Shores council addressed the gypsy moth issue that has plagued much of the municipality, and Port Franks in particular, for months.  
Staff was asked to investigate possible control solutions for next year and submit a report to council by December 1.
"There was "a bit of an issue going on in Lambton Shores with gypsy moths," Councillor Sageman said
Councillor Wilcox said that although council "missed the timeline this year," he hoped that staff could gather the necessary information to help residents for next year.
For residents of Port Franks this admission and first step is long overdue. The community has been rallying for council to address the issue for months.
Many residents have taken to the Port Franks Facebook page to voice their ongoing frustration, with one poster saying the community was "under siege" by the gypsy moth caterpillars.
One post stated that Mayor Weber was not taking the issue seriously enough, while another said that "Lambton Shores dropped the ball on this issue."
A group called The Gypsy Moth Challenge was formed. Its objective is to "outline the magnitude of the problem" and work with council to find a solution.
An online petition created on change.org, requesting that aerial spraying be conducted in 2021, has already garnered over 2000 signatures.
Sarnia, Pelham, Hamilton and Toronto all have aerial spraying programs in place. Aerial spraying "is the most effective and efficient," resident Karen Cummings said.
Bacillus thuringiensis kurstaki (Btk) is a naturally occurring bacterium. It is the most commonly used insecticide spray for gypsy moths and is considered to be safe and non-toxic.
I would have my lot sprayed if it was in the area.
The Government of Canada website states: "For some 30 years it has been used successfully world-wide as a biological pest control agent to combat a variety of forestry and agricultural insect pests."
Weber said that he supports spraying. "I would have my lot sprayed if it was in the area." However he is not prepared for council to cover the cost of spraying private properties. 
He likens it to the municipality funding grass cutting on private property. 
Cummings said that the municipality should mandate spraying and cover all costs.
She said the municipality may be hoping that residents will just pay rather than have to endure "such a horrendous nightmare again."
"I'm not sure counting on tax payers to be fed up and exhausted is a great municipal or re-election strategy."
Gypsy moths originated in Europe but have been in Canada for 100 years. Outbreaks occur every seven years and can last three to five years.
"The current infestation increased in 2019 to just over 47,000 hectares … overall there is nothing unique about the infestation currently being experienced this season," said Jolanta Kowalski, spokesperson for the Ministry of Natural Resources and Forestry.
While outbreaks many not be unique, Weber said the amount of gypsy moth caterpillars was higher than anticipated this year.
The infestation came at a time when residents were forced to stay home due to Covid-19.
This made the situation particularly brutal. With thousands of caterpillars covering homes, trees, and driveways many people felt trapped in their homes.
They couldn't go for a walk or sit outside without gypsy moth caterpillars falling on them. Some said they were afraid to let their children play outside because the tiny hairs on the caterpillars have been known to cause and allergic or respiratory reaction in some.
Residents of Port Franks spent much of the spring and summer removing caterpillars and excrement from their properties. The stress has taken a toll.
"It was an unbelievable amount of work, anxiety and stress which, in the end, accomplished very little," said Cummings.
Many are worried about the effects the caterpillars will have to both their own and municipal trees.
Gypsy moths can eat an average of one square metre of leaves. Though they have been discovered on hundreds of tree species they are partial to oak. 
Pinery Provincial Park is home to the largest oak savanna in Ontario. After defoliation, deciduous trees have the ability to produce new leaves but eventually they may become weakened and die.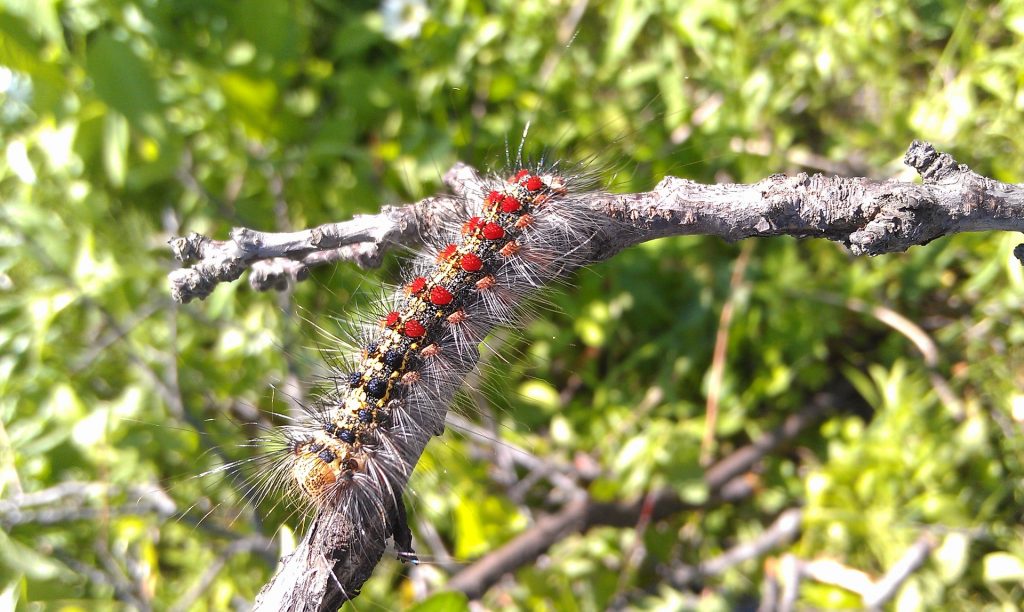 During the July 14 council meeting, Romayne Smith Fullerton, spokesperson for the group, presented a slideshow with photos taken by residents.
The group's intent was to demonstrate the severity of the problem.
Following the presentation Deputy Mayor Cook said that council would work with the residents to find a resolution for next year.
He added that the gypsy moths were "an act of nature" and were not caused by council.
"So those folks that decided to send all the nasty emails and post all the derogatory pictures on Facebook, grow up a little bit," he said.
The caterpillars have since turned into moths. The community finally has a break as they wait for staff to present their findings to council.
Thursday, July 23 at 6 p.m. Paul Zimmer from Zimmer Aerial Services will speak to members of the public about aerial spraying with Btk. 7904 Katharine Crescent, Port Franks.