The Bend Cannabis Co. retail store opened in Grand Bend in December. 
Owner of Lambton County's only licensed cannabis store, Laura Bradley, says she couldn't be more excited to serve the people of Grand Bend.
Bradley spent the summer renovating the store herself which gave her the opportunity to meet a lot of curious on-lookers.
She says she wasn't sure how residents would react after learning what type of store it would be but was pleasantly surprised at how many people said they were eager for the store to open.
Until January 2020 there was a cap on how many cannabis retail stores could operate in Ontario.
The decision of who could open a pot shop was left up to chance as aspiring retailers were awarded a license to operate based on a lottery system.
This meant that becoming licensed to open a store was based on luck rather than competence. As anyone who plays the lottery knows, there is little chance of winning.
The first lottery was for 25 licenses across the province and the second was for 42 more. Bradley says she didn't expect to win either of the lotteries – she didn't.
As soon as the lottery was scrapped and the cap lifted, allowing all prospective retailers to apply for a license, Bradley applied and received her license.
She says when a property on Main Street became available "everything fell into place" and she jumped at the chance to open her store there.
London-raised Bradley is no stranger to Grand Bend. She spent her childhood at the beach and is first in line every spring to camp at The Pinery.
She says she grew up hearing stories about her dad's youth spent at the Colonial.
Bradley says that in the short time her store has been open the majority of locals have been supportive of both her and the store.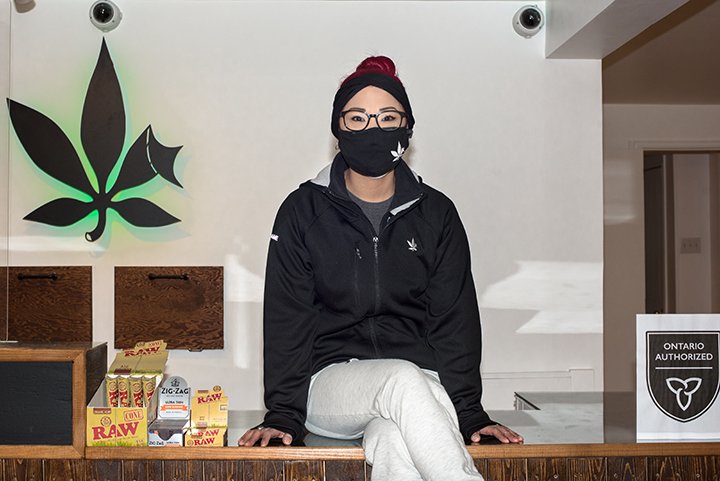 "I'm thrilled to be in Grand Bend and honoured that people are being so welcoming."
She says that opening the store during the lock down has actually been beneficial because it has given her the opportunity to connect with the local community and learn about their needs in a way that she may not have had otherwise.
"It's been so much fun getting to hear all their stories… It's so rewarding. If I had opened in the summer I wouldn't have had the capacity to make those relationships so it's actually been a blessing in disguise," she says.
Being the only licensed cannabis store in Lambton County doesn't come without challenges.
Bradley acknowledges that she can't compete with reserves that are able to offer customers products with higher concentrations at lower prices.
"I'm not here to challenge them… they're offering a service that I can't offer," she says.
Pot shops on First Nations reserves operate in a legal grey zone where provisions are not clearly defined.
Most are not licensed by The Alcohol and Gaming Commission of Ontario (AGCO) and products are unregulated.
Private cannabis stores licensed by the province must purchase their inventory through Ontario Cannabis Retail Corporation.
They are only allowed to sell product in person and the amount sold to each customer per visit is regulated.
Bradley says her store offers consistency.
"I'm here with the safe products; I'm here with regulated products approved by the government."
She says her only agenda is to educate people, answer questions and support the community.
She says it's rewarding to hear from her customers that she was able to help them choose the right product.
As the owner of the only cannabis store in Lambton County Bradley is something of a pioneer. Bradley says that being part of an industry that's still in its infancy is "cool."
Bradley is an industrious person with a serious work ethic. In addition to running The Bend Cannabis Co. she holds both a full and part time job and is a student at Fanshawe College.
She says she has dreamed of being a business owner since childhood and her long-time advocacy for medical marijuana fit perfectly with her entrepreneurial spirit.
"It's all come together and I feel like this is kind of a dream come true," she says.
Though the store on Main Street has only been operating for two months a second, franchised location in Toronto's Kensington Market neighbourhood has already opened.
Bradley says her heart is at the lake and plans to spend the majority of her time at the Grand Bend location where she hopes to be known as a community partner and good employer.