Nathan Teetzel is a third-generation farmer who is passionate about what he does.
He and his brother Ian own G & L Farms in Thedford. The farm specializes in growing onion sets and table garlic.
Onion sets are bulbs that are produced specifically to be small in size and are used by gardeners or other farmers who want to grow onions.
The sets are planted close together to inhibit growth and once re-planted, develop into a full-size bulb after a few months. The garlic they grow is sold to grocery stores for consumption and to locals who stop in.
G & L Farms is one of only about six growers in North America producing these sets on a large scale. The onion sets are exported across North America and excess product is sometimes shipped to Europe.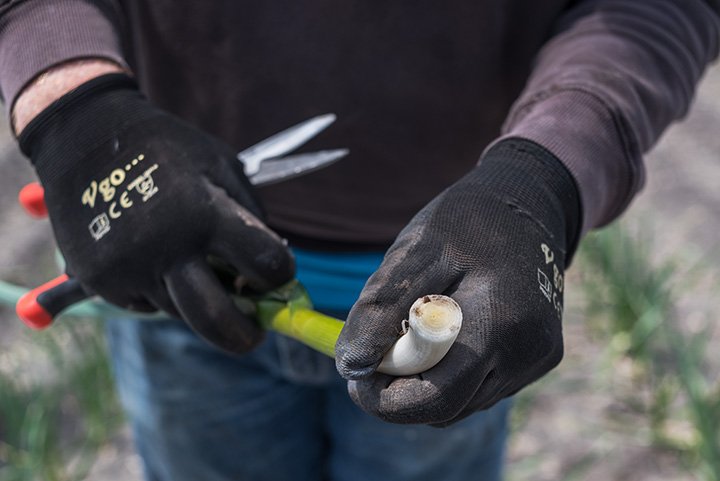 The brothers inherited the farm from their father Gordon who inherited it from his father Fred.
When Fred Teetzel started the farm the cost to purchase land in the 1940s was about 10 dollars an acre.
As was the norm at the time, Fred grew a variety of crops. The equipment was extremely small and tractors ran on 20 horse power. The land had scrub trees over most of it and there was no tile drainage so the land was very wet at times.
"My dad talks about how the farms were not like they are today, a lot of work had to be done," Teetzel said.
Teetzel's father decided he wanted to follow in his father's footsteps.
"My dad wanted to farm and my grandpa said 'no, this has been a really tough life,'" Teetzel said.
Eventually Gordon did take over the farm and unlike his own father, Gordon told his boys that there was an opportunity in farming if they wanted it but when they were old enough he left the choice up to them.
"We never felt pressure. It was our decision," Teetzel said.
If you don't enjoy doing it you won't last at it.
Much has changed since Fred began his farm.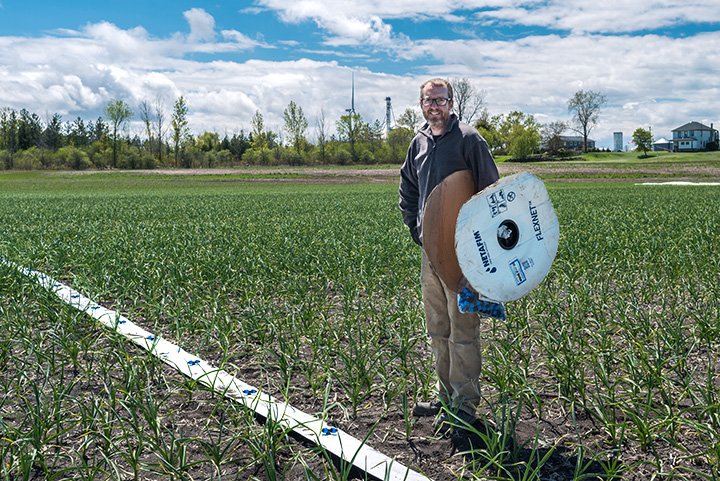 Fred harvested the onions by hand. He pulled them from the ground, left them to dry in the field and used bushel baskets to carry them to storage.
His grandsons can harvest 20 acres in one day with machinery and just two people.
The one thing all three generations have in common is a hard-working, industrious nature and a love for what they do.
"You have to pour so much effort and thought and time into it. You have to really enjoy doing it. If you don't enjoy doing it you won't last at it," Teetzel said.
Teetzel said that one of the reasons he loves farming is the challenge of working at something without knowing the outcome year after year.
"When you're working with nature and you're working with a market you don't really have control of every year is different. You have to really be innovative and resourceful to try and make the most you can with what you have."
A retired neighbour helps them out on a part-time basis and extra workers are hired to help out during busy times but the brothers are the only full time employees and can be found toiling in the field together or alongside their temporary employees.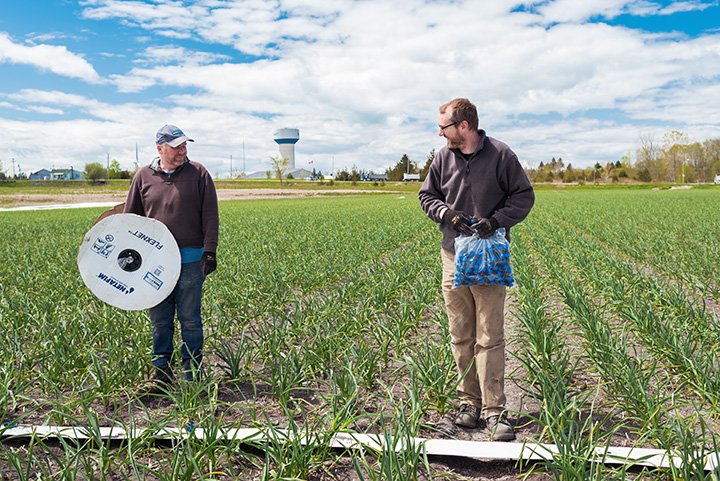 "Farmers are not multinational companies who have marketing directors or research departments, we do everything ourselves. We are the marketing director we are the research department, we are the labour in the field who is digging up the irrigation pipes," Teetzel said.
As with most businesses, Covid-19 has been a challenge particularly in an industry where a lot of work is done by hand by people who work in close proximity to one another.
"Every bulb is touched multiple times by hand . . . it's been a lot more cost for us to try to do it with people separated. It adds a lot of extra work," Teetzel said.
Though much of the work is still done by hand as it was in his grandfather's day, Teetzel points out that farming is an industry that must constantly evolve and taking advantage of new technology is essential to the success of a farm.
"You think of farming as backwards and it's been done for thousands and thousands of years the same, but no, if you're not at the leading edge of innovation you're falling behind," he said.
Teetzel said that like his father before him neither he nor his brother plan to push their children into becoming the next generation of farmers. He said that as long as he can make enough money to support his family anything else would be a bonus.
"If my kids or my nieces want to continue the business we will try to empower them as much as we can do to it but it has to be on their initiative… but yes, absolutely I would be proud to see that what we worked over our lives and what my father worked over his life and what my grandfather . . . continued."