Saxophonist Connie Furtney and keyboardist Laura Breen are holding a Jazzy Christmas drive-in concert Dec. 20 at 2 p.m. in the parking lot of Forest United Church. The holiday concert will benefit Contact House food bank.
Furtney, a Forest resident who calls playing music her "retirement passion," said she came up with the idea after compiling and practicing a holiday set list which she performed at a retail store in London.
She said she thought "it would be nice to do it in my own home town" while fundraising on behalf of a deserving organization within the community.
Furtney contacted Forest United Church to offer her services. Church secretary Debbie MacPherson suggested that the concert benefit Contact House food bank instead.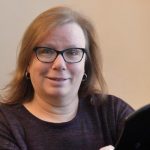 Furtney and Breem's playlist will include jazz-inspired Christmas classics along with religious hymns.
"We've really tried to craft each song so it's a special performance of that song," Furtney said.
Furtney and Breen decided to hold their concert outdoors like a drive-in due to COVID restrictions.
"You just have to be creative in looking for ideas," Furtney said. "It just kind of breaks up the time during this lockdown situation."
Attendants will be directed to a parking spot when they arrive at the church. There they will be able to listen to the concert through their car radios while remaining safely in their vehicles.
The concert will be kept to one hour in to make sure that attendees won't get too cold in their cars.
Furtney said she plans on wearing layers of Christmas sweaters and fingerless gloves to keep warm.
This is the first Christmas concert for the duo but Furtney said that if it's a success she'd like to do it again next year – though hopefully it can be held indoors.
The concert is free to attend but non-perishable food donations are encouraged. The parking lot at 21 James St. N. will open at 1:30 p.m. The concert will be broadcast on FM 98.5.