Situated on River Road, Cottage Café offers up sweet treats and light meals in a relaxing, cozy atmosphere with killer views of Grand Bend's marina.
The café officially opened less than two weeks ago and because of COVID-19 it's take-out only but Sharon and Hailey Coleman say that they're encouraged and excited to see familiar faces as customers return over and over.
The mother-daughter duo knew from the start that they wanted the café to be "a destination spot" rather than just a place to grab a coffee.
The eclectic decor is rustic and warm with mismatched mugs and touches of buttery yellow.
Outdoor patios on both floors overlook the marina and the glass-enclosed area on the main floor will likely be a favourite for anyone looking to settle in with a coffee and a book on a rainy or fall day — something both Sharon and Hailey encourage.
"We just want this place to be kind of relaxing, you come in with a friend you have a chit-chat you have a coffee, no rush," Sharon says.
"I think it's what Grand Bend needs," Hailey adds, "Coffee, tea and stay as long as they please."
When Sharon and her husband bought the property their intention was to rent it out.
She never anticipated that she and her daughter would open a café together but after would-be renters mentioned knocking down walls Sharon decided against renting out the 1950s era building.
Sharon says she always dreamed of owning her own teahouse and since Hailey always wanted to run her own business it was the perfect time.
"There have been a few hiccups along the way but we've had a lot of fun," Sharon says.
As the name suggests, the café's decor is cottage- inspired but inspiration for the menu came from the cafés Hailey frequented when she lived in Halifax.
Hailey says that the phenomenal scones, a specialty of one of the café's bakers, and croissants have quickly become the café's staples.
The pair didn't always agree on everything, though Hailey admits that her mother was always right in the end, but they did agree that the café would promote regional products.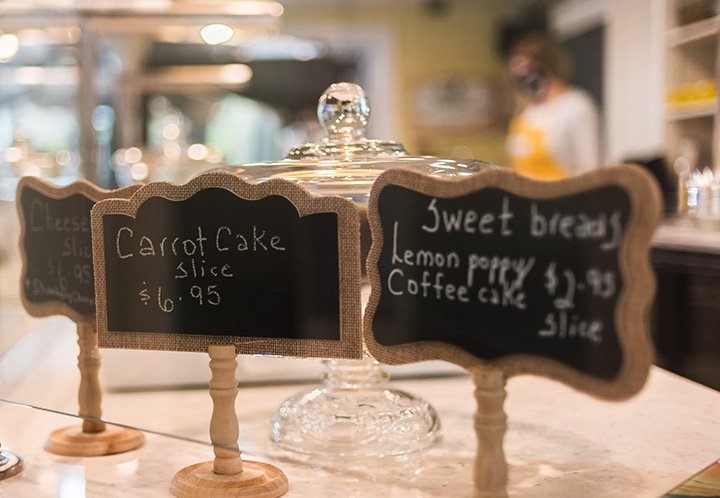 The café sells items from nearby towns like flour from Arva Flour Mill and mint chocolate smoothies from Rheo Thompson in Stratford and the pair plan on expanding their retail section to include more non food items in the future.
They also have ideas about utilizing the space upstairs during the off season.
"There's a lot of possibilities with this building and this space and a café in general," Hailey says.
Although both agree that the view is a huge draw they're confident that the café will also be known for its baked goods and breakfast options.
If the amount of repeat customers who haven't yet been able to sit inside the café is any indication that will certainly be the case.
The cafe is open Wednesday – Sunday 7:30 a.m. to 3 p.m.