Jeffrey George, an Ojibwe artist originally from Kettle and Stony Point, has been painting for two decades, but at the age of 41 the soft-spoken artist is becoming known in art circles as someone to watch.
George's paintings have earned praise locally and have been exhibited in many galleries including Indigena Gallery in Stratford and The Lawrence House Centre for the Arts in Sarnia.
Known as Red Dog, the beer-brand name given to him as a teenager by his uncle because of his red hair and partying ways, George says the moniker is fitting for a self described "underdog" who has overcome so much in his life.
At his Port Franks studio overlooking Lake Huron George pours his thoughts, feelings and memories into each of his vivid Woodlands Style paintings. He comes from a family of artists but has carved out his own unique style.
With each piece George includes a narrative describing the significance behind each of the carefully chosen elements on the canvas. George's eloquent words invoke a sense of poignancy that make the already beautiful paintings even more impactful.
Some elements, representative of the future, are joyful and optimistic but some reveal a troubled past that George is still trying to come to terms with.
After losing his father at just four years old, his mother remarried but according to George his stepfather was not a stabilizing influence in the home.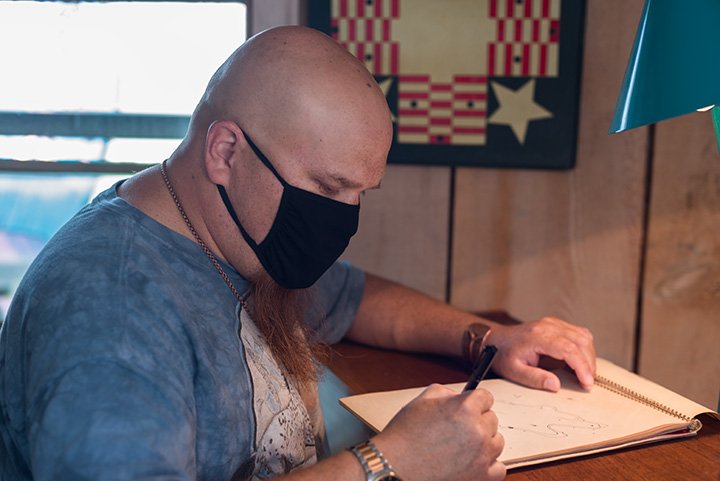 "After that it kind of went downhill pretty bad," he says.
When he was 10 his younger half-brother drowned. He's carried the pivotal memory throughout his life and the guilt he feels has never left him.
George says his childhood was one of poverty, alcoholism, domestic violence and abuse. Ultimately George and his siblings were taken from their mother's care by the Children's Aid Society and he wasn't able to return until he was 16.
Throughout his tumultuous childhood his beloved grandmother Gladys was a constant presence.
At 16 George told his grandmother that he wanted to become an artist. As an artist herself she knew the struggle he would face and tried to dissuade him.
"And I remember that day because I had an argument with my grandmother. Because she wanted me to go to work and get a real job," he says.
George spent much of his adolescence using alcohol and drugs to mask the pain of his childhood. His ability to express his feelings through art and an opportunity to enter the Fort Frances Tribal Area Health Services Residential Treatment Program helped him turn his life around.
The program taught him about his rich heritage and he was given the name Ma-Mi-No-ga-boo which means He who stands with the light of the Creator.
"I slowly started to want a better life for myself. (I) developed a change through the spirit of my artwork and started focusing on that. It gradually got easier and I got motivated and self confidence built up within my spirit," he says.
Though his grandmother passed away she continues to be a presence in his life. George keeps a weathered photograph, his only one, of he and his grandmother on a table in his studio.
"She would be very proud of me," George says about how she would react to how far he's come in both his life and in his art.
The lady who was so influential in George's life did not live to see the successful artist he is becoming but he has many supporters in the community.
One of George's biggest supporters is avid art collector Robert Kennedy. Kennedy, whom George warmly calls his "adoptive father," has become a mentor to George.
"The quality of his art was what attracted me first and he's got a pretty warm personality too," Kennedy says.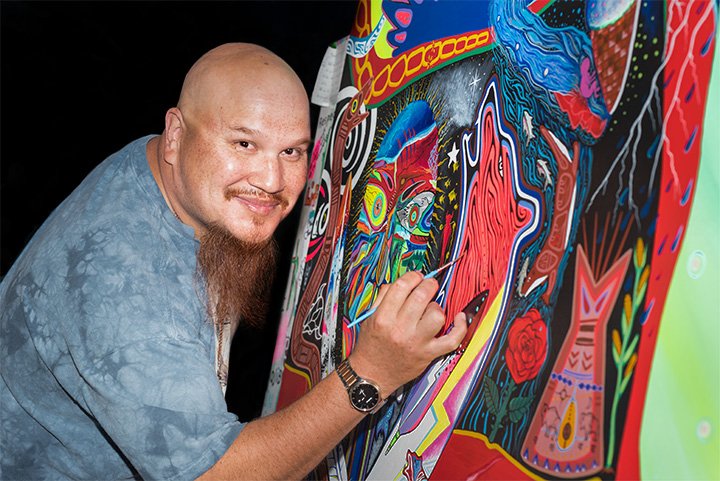 Kennedy says George's work is comparable to that of legendary Canadian First Nations artist and Woodlands Style founder Norval Morrisseau but "the quality of his painting is better than Morrisseau."
Kennedy says the text George writes for each painting is worth almost as much as the paintings themselves and he believes George has the potential to become one of Canada's best Native artists.
George still grapples with his past and it continues to influence his art. He says he wouldn't be where he is today without art.
George says his life and art mirror each other.
"It's a yin yang situation."
His recently completed painting "Monster" includes a lot of dark elements from his past which George says "resurfaced like a bat out of hell," while he was painting but among the dark there are elements of hope like the rising star that George says represents himself.
For more information about George's work visit Red Dog Art Studio.