Candace King is a peer support worker with the harm reduction program at The North Lambton Community Health Centre in Forest.
She assembles supply kits, helps people find housing or transportation and puts them in touch with government agencies.
She also runs the Let's Be Real virtual drop-in program which provides education to current or past drug users and a safe judgement-free space where they can talk about their lives.
Whether they come for sterile supplies or just to talk, people who come to the centre trust King because she knows exactly how they feel.
King was a nursing student who became addicted to drugs after being prescribed medication following an accident in 2009.
After a stint in rehab and two years of sobriety King eventually found her way to crystal meth.
"You had to do what you had to do. Steal, lie, manipulate and do things for your fix. You wake up in the morning and think 'Oh my God how am I going to do this?'" she says.
Eventually she lost custody of her young son, lost touch with friends and family and was set to lose her housing.
The loss of her son coupled with the betrayal she felt towards her family and government agencies caused King to spiral further into drug use.
King says she always tried to maintain a sense of health and safety while using drugs and used her needles up to 10 times rather than share with others because she thought it was the safest option.
Many drug users mistakenly believe that reusing their own needle is safer than sharing, however reusing a needle can cause infection due to bacteria, Hepatitis C and other health issues.
"I thought you could only buy or go to Lambton health but I had no vehicle. You just used what you had. I never resorted to using someone else's," she says.
King says she didn't know she could get free, sterile needles anonymously until a friend told her about the harm reduction program operating within The North Lambton Community Health Centre.
At the centre an outreach nurse said to King: " If you're using let's get you clean supplies, if you need a doctor let's get you a doctor."
The nurse asked King what her goal for the future was.
King told her that while she intended to abstain eventually her plan for that day was to get clean needles and leave.
King ended up talking to the nurse for an hour.
"I wasn't ready to quit. That was my ultimate goal but I definitely needed to speak to someone, to feel like someone was on my side because I felt like everybody was turned against me."
The program has a policy of anonymity and like a lot of people who visit the centre King was distrustful of the team and initially hesitant to provide her real name.
King continued to return to collect clean supplies for herself and others in the community and to socialize with the volunteers whom she says provided the "crucial social support" she didn't have at home.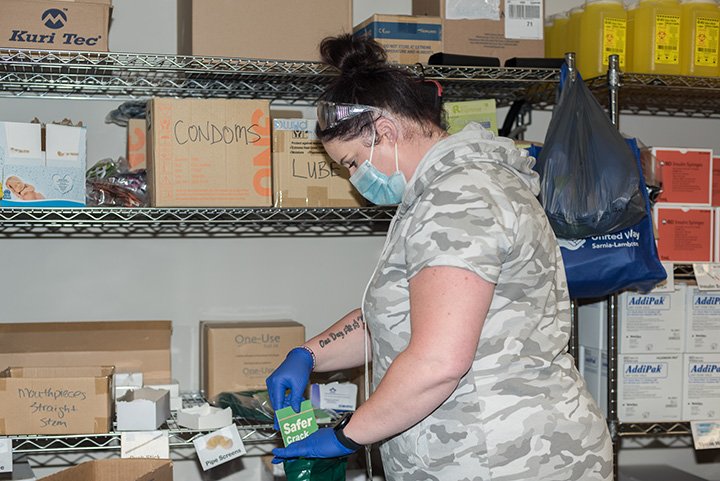 King began volunteering as a peer support worker while she was still using. She says it gave her purpose and she found it important to prevent people from spreading hepatitis C and HIV.
"When I came here it gave me a purpose to get up. Even if it was a day, a week," she says.
The harm reduction program believes that peer support workers who are actively using can provide invaluable, up-to-date information about the types of drugs in the community so that staff can better assist clients.
As she volunteered, the outreach team continued to help King. They didn't pressure her to stop using but got her a doctor and a social worker and cheered her on—­­positive changes that King says helped her to decide she might be ready to stop using.
"They (the team) take all those barriers down so all you have to worry about is stopping using and then maybe tomorrow will be that day of change," she says.
A few months later the same nurse who had asked King about her future goal asked if the day to start working on it had arrived or if she needed more time.
King said she was ready to get clean.
"Every day you wake up and think you need to get your fix and to run out of that comfort zone is so scary but these girls have made it so much easier for me to cross that bridge to change."
King has been substance-free for 18 months. Her son has been returned to her care and she's gone from being a volunteer to an employed peer support worker, something she says is very rewarding.
She says she is reminded every day of what she can't go back to and wants to use her lived experience and knowledge to help others the way the team helped her.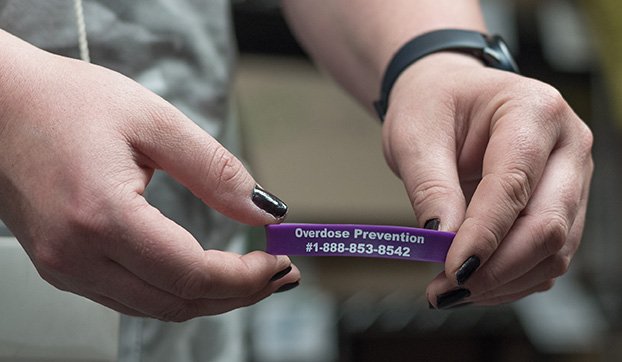 "What these people have done for me I feel I can do for somebody else."
King says that as a result of her experience with the program she has decided to go back to school to become an addiction and mental health worker.
She says she wants to help people in the community who are most vulnerable and is hopeful that her experience both in life and work has provided her with a solid foundation for her new career.
"If I can help do that in the community, in the community that I care for, the community that I used with then at the end of the day I feel like maybe I didn't save someone's life today but I made their life a little bit easier today."
The harm reduction program is located within the The North Lambton Community Health Centre at 59 King St. West (lower level).
For outreach delivery Monday to Friday 8:30 a.m. – 4:30 p.m. call or text 226-932-0473
For information about Let's Be Real virtual drop-in program contact Candace King 519-786-4545
Ontario Overdose Prevention Hotline 24/7 1-888-853-8542 to speak with a volunteer who will stay on the line while you are using and can call 911 in the event of an emergency.